What makes our mount different.
We approached the mounting of a device from a new innovative angle. Instead of relying on mechanical arms that spread with gears and springs, we took a much simpler approach using the natural laws of physics. No moving parts ensures a lifetime of trouble free use.
Who We Are.
Have you ever had an Idea for an Invention or a better mouse trap? Well, I did and developed it from the ground up on my own, from CAD drawings, 3D printed prototypes to final production from supporters on Kickstarter. Have you ever wondered why you rarely see innovative products at large retailers? They don't like risk and will keep feeding you with archaic products. I designed the Gravity X mount from the heart with the goal to make people feel good by solving an inconvenience of everyday living, not for how much money it can make. My goal is 100% customer satisfaction, even if I have to go the extra mile to make a custom bracket (which I've done many times). America was built on innovation and those who looked outside the box, by supporting small companies like us it will ensure ongoing influx of new ideas and products to America.
How it works
We utilized the simple weight of the phone. Think of it like a seesaw with just one kid, the small weight at one end puts the same force in the opposite direction at the other end. This presses a silicone pad against the glass screen immobilizing the phone, think of it like tennis shoes vs socks on a bowling alley surface.
This makes it much faster to operate, leaving all competition behind. Something that has never been done before, so we patented it.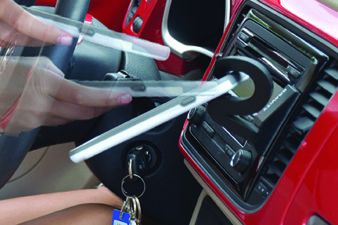 Frequently asked questions
To install the Gravity X, locate a flat surface on your dash where you would like it to be (usually this is to the right of your radio).  Clean the surface with the provided wipe, adhere the base plate with the included strip of 3M tape, then lock in the mount. Simple and easy! Optional Vent mount available that simply clips to the A/C vent without blocking it.
Will my phone slip out on a bumpy road?
Our revolutionary design means your phone will be secure whether it is on bumpy roads, around sharp curves, or in stop-and-go traffic.
Can I remove it if I get a new car?
Yes, removal is as easy as simply taking off the 3M tape.  It will not leave a mark of any kind.
Will it work with my phone?
The Gravity X can hold any size phone or tablet on the market. There will never be a need to change your car mount when you upgrade your smartphone to the latest and greatest.